#brucknerconnection week 4
(English below)
I'm not Gonna Crack (ensemble de pièces)
"tête", grès, émail brun-orange fait sur mesure, 22cm x 35 x 26cm
"escalier", mix ciment-porcelaine, 10 x 35 x 8cm
Prix de vente : CHF 1'500.- (ensemble de pièces)
Disponible auprès de l'artiste.
Pendant la Renaissance entre le XVe et le XVIe siècle, alors que la quête vers un mode de vie alternatif et utopique fait éruption dans les bouleversements culturels de l'époque, de nombreux plans de « cités idéales » ont été dessinés par des architectes. Bien qu'ils n'aient jamais été matérialisés, ces plans pour des villes potentielles avait comme projet des configurations urbaines idéales pour une vie idéale. I'm not Gonna Crack s'inspire de La Cité idéale de Fra Canevale (huile sur panneau de bois, c. 1480-1484,) mais en allant à revers de cet « idéal » en proposant des géométries distordues, des échelles fantaisistes tout en ayant le soucis des textures et des matières créant ainsi une impression d'inachevé.
Pour Noemi Niederhauser, artiste Suisse résidant à Athènes, la conception et le sens des œuvres sont comme des chorégraphies hybrides. Sa pratique se nourrit de la symbolique inhérente aux matériaux et artefacts en lien avec le temps et l'histoire. Noemi Niederhauser n'hésite pas à s'approprier des sujets ethnographiques, historiques ou archéologiques tout en expérimentant de manière approfondie avec les matériaux. Son approche conduit à la création d'installations spécifiques à un lieu qui transcrivent et rassemblent des artefacts de manière à créer de récits déstabilisants. Ses projets mettent en scène des cosmologies qui racontent petit à petit un lieu et une époque entre réalité, hypothèse et spéculations. Ainsi, les faits historiques se mêlent à d'énigmatiques légendes pour former de nouveaux récits en constante évolution. Dansant à travers les lignes floues entre art, artisanat et design, les œuvres qu'elle propose traitent de l'idée de perspective, de vision augmentée et de perceptions (à la fois visuelles et historiques). Avec la menace des "quand" et "d'où", Noemi Niederhauser interroge la place des matériaux et artefacts en tant que discours de connaissance de valeur culturelle.
------------------------------------------
I'm not Gonna Crack (group of pieces)
"head", stoneware and brown-orange custom-made glaze, 22cm x 35 x 26cm
"stairs", mix cement-porcelain, 10 x 35 x 8cm
Sale price: CHF 1'500.- (group of pieces )
Available directly to the artist.
During the Renaissance in the 15th – 16th centuries, when utopianism and the quest to discover alternative ways of life erupted from within the intense cultural upheavals of that time, several plans for « ideal cities » were designed by archi¬tects. Although they never materialized, these plans for potential cities aspired to an ideal urban configuration and an ideal life. I'm not gonna crack takes as the reference The Ideal City by Fra Carnevale (oil painting; ca. 1480-1484; Renais¬sance) but reverses this « ideal » with geometries distorted, scales disrupted, a care for the physicality and textures of materials, a sense of the unfinished.
Choreographing making and meaning in hybrid ways, Noemi Niederhauser's practice engages with the symbolics embedded into materials and artifacts in relation to time and history. Using discourses of ethnography, history or archeology in an altered way, while extensively experimenting with materials; her approach leads to the creation of site-specific installations that transcribe and reassemble artifacts in order to create disruptive narratives. Digging into visual, oral and written archives while involving existing, storied or imagined elements; she enlarges details until they escape their initial state and become the starting point of entire micro orders of relational objects. Her projects display cosmologies that each slowly narrate a place and a time stepped in between reality, hypotheses and speculation. As a result, historical circumstances mingle with enigmatic legends to form new and ever evolving narratives. Dancing across the blurred boundaries between art, craft and design, the visual propositions she develops deal with the idea of perspective, enhanced vision and perception (both visual and historical). With the threat and corruption of « when » and « where from », Noemi Niederhauser interrogates the place of materials and artifacts as discourses of knowledge and cultural value.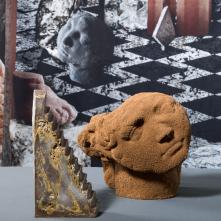 Noemi Niederhauser / I'm not gonna crack, 2019, Ceramics, Ceramics-Concrete © HEAD – Genève, Raphaëlle Mueller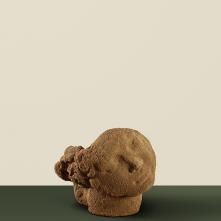 Noemi Niederhauser / I'm not gonna crack, 2019, Ceramics, Ceramics-Concrete © HEAD – Genève, Raphaëlle Mueller
Noemi Niederhauser / I'm not gonna crack, 2019, Ceramics, Ceramics-Concrete © HEAD – Genève, Raphaëlle Mueller